Assalamualaikum,
Saban hari kita mendengar tentang penyakit yang berjangkit, dari kaca TV mahupun di corong radio. Dan yang terbaru sekali ialah penyakit selsema babi, ataupun virus H1N1, dan virus mempunyai kesan yang amat memudaratkan kepada mangsa.
Sebagai seorang Islam, kita haruslah mengamalkan hidup yang bersih, dan ini secara tidak langsung dapat mengurangkan peratusan jangkitan virus H1N1 ini.
Selain dari itu, elok lah kita berkongsi, doa doa yang boleh di amalkan, untuk mengelak penyakit ini daripada berleleluasa.
Saya menerima email dari Cik Man pagi tadi, dan ini doa-doa yang boleh kita kongsi bersama. Terima kasih Cik Man.
Email Cik Man
azman@toko.co.jp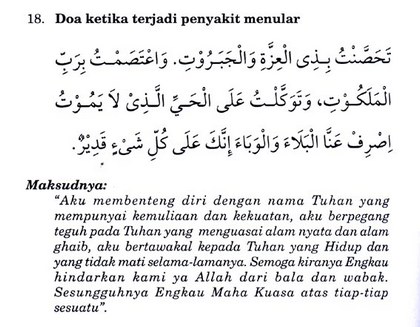 p/s: yerr. mengarang esei indah eyh! hahahaa...


_________________
----------------------------------
desperately want to be slimmer... and slimmer.. and slimmerrrrr...